By Camila Rocha
As you walk down Mission Inn Avenue, you notice giants in sombreros towering over you, human-sized butterflies flying overhead, and the smell of great Mexican food. Have you been transported to a surreal wonderland? No, you have simply arrived at Tio's Tacos!
Located in the heart of Downtown Riverside, Tio's Tacos not only offers enticing Mexican flavors, but a lively museum of recycled-art. For foodies and art lovers alike, this magical restaurant is a must-taste and a must-see. 
The Birth of a Landmark
Having grown up in poverty in Michoacan, Mexico, Martin Sanchez knows the importance of never throwing anything away. Upon immigrating to the United States, he sold oranges, peanuts, and ice cream before purchasing a hot dog cart. He began renting what would become Tio's Tacos in 1990 and purchased the property in 1995.
The restaurant has since expanded and displays a colorful array of recycled art. Despite receiving no formal art training, Sanchez has a knack for creating eccentric art using recycled materials. While recycling and reusing items were necessities living in poverty, he transformed these practices into the foundation for Tio's Tacos' magical ambiance.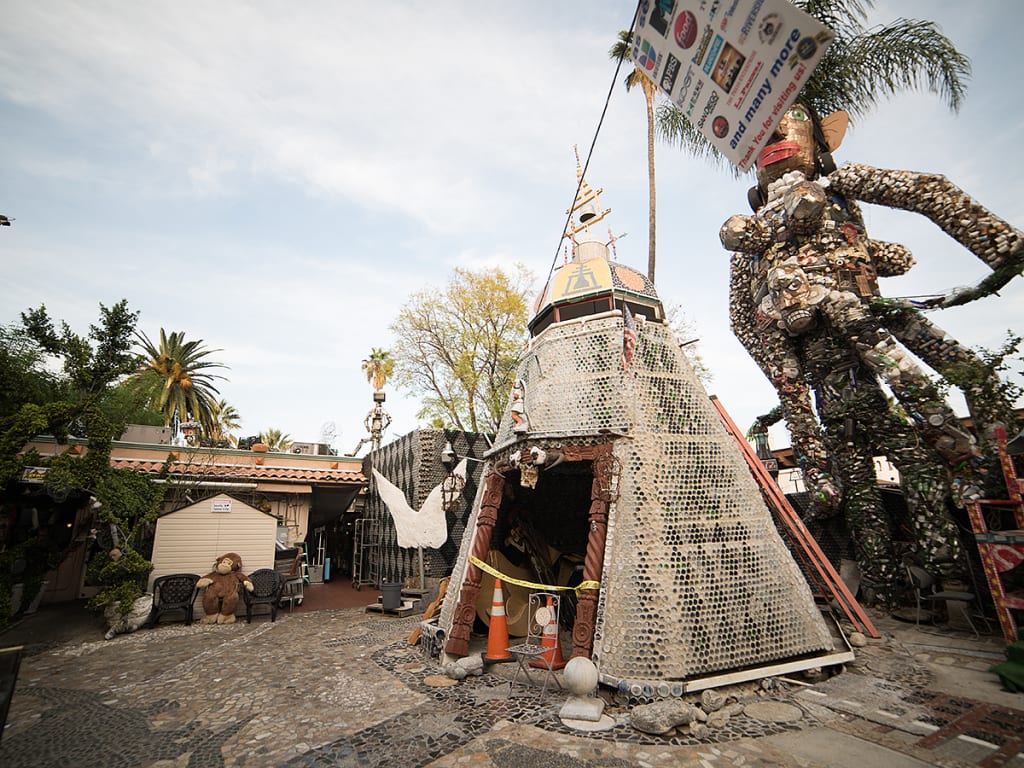 Food and Sabor
Enjoy an authentic Mexican dining experience when you visit Tio's Tacos! The broad food options include seafood delicacies like tostadas de ceviche (marinated seafood on a toasted or deep-fried tortilla), caldo siete mares (seven seas broth), and shrimp tacos. Nachos, burritos, mole with chicken, tacos, and other Mexican staples are also on the menu. The breakfast options include chilaquiles (fried corn tortillas in salsa) and menudo (a flavorful soup made from tripe).
Customers looking for vegan options can enjoy the tostadas de nopales (cactus on a crunchy tortilla) or the sopes de papas (a thick corn tortilla covered with beans, potatoes, and other toppings).
For dessert, try the homemade flan (a custard dessert with caramel sauce) or the arroz con leche (a sweet rice pudding). The bionicos (fruit salads topped with sweet cream) will surely end your dining experience on a sweet note! 
As for drinks, Tio's Tacos has you covered with their aguas frescas (drinks made from fresh fruit and sweetened with cane sugar) bar! Their micheladas (beer, lime, and spice drinks) are also ideal for the hot southern California weather. 
For more information on dining options, check out the online menu.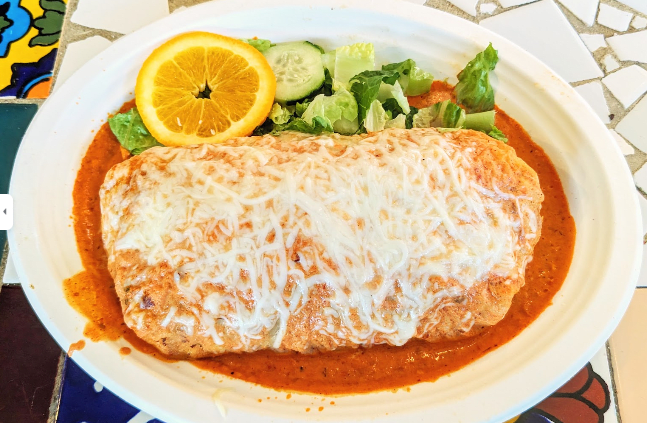 A Mexican Recycled Fiesta
Tio's Tacos is the true embodiment of the phrase, "One man's trash is another man's treasure." Every inch of this Mexican restaurant is covered with some form of recycled art. Giant reptiles snake across a building. Bottle caps, coins, and even bicycles are embedded into the cement floors. Palm trees are turned into statues stuffed with bottles and cans. Visitors could spend hours wandering through this surrealist landscape and still discover hidden details.
As you pass through one of the entrances, you are greeted with Av. Mariposa Monarca (Monarch Butterfly Avenue). Dozens of aluminum butterflies adorn a walkway lined with plants and a recycled license plate wall.
Another popular attraction at Tio's Tacos is the cathedral. Created from recycled bottles, the cathedral was Sanchez's gift to his wife, Concepcion. A multicolored stained-glass effect is created as light filters through the bottles. This cathedral with painted ceilings reminiscent of the Sistine Chapel has even been witness to weddings and other religious celebrations!
Tio's Tacos offers both indoor and outdoor seating. Visitors can find a shaded dining area made of umbrellas with aluminum flowers and butterflies hanging overhead just outside the main restaurant. The main kitchen also opens into a larger patio with shaded seating surrounded by dreamlike art.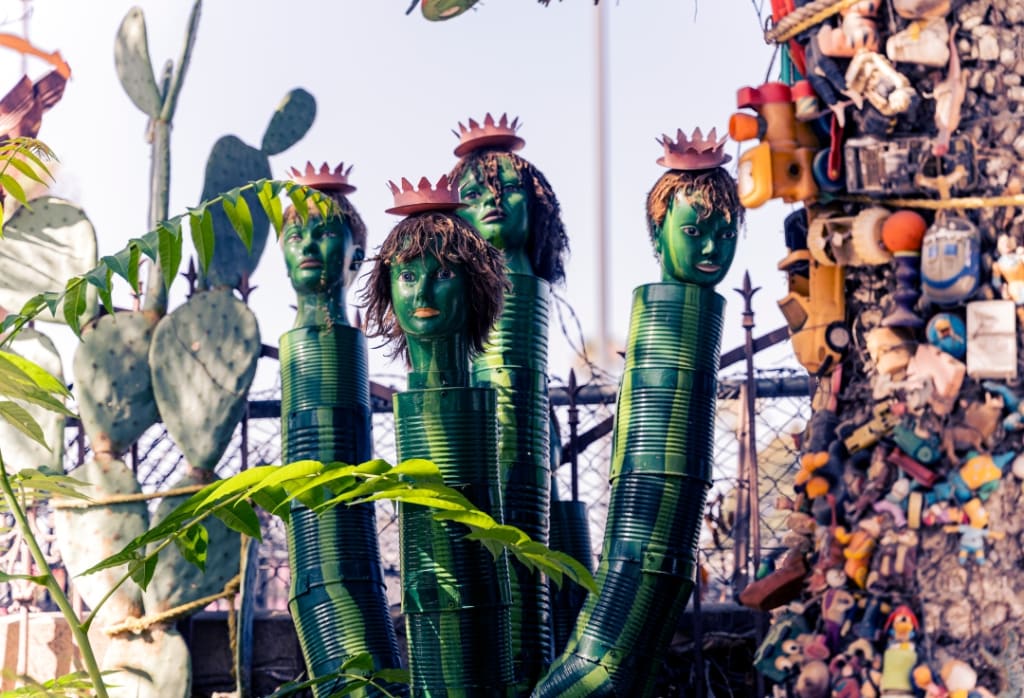 Hours, Parking, and Beyond
Tio's Tacos is open all days of the week. It opens from 8:30 a.m. to 10:00 p.m. Monday through Sunday, with the exception of Fridays and Saturdays that close at 11:00 p.m.
The restaurant is also located a brief walk away from the historic Mission Inn Hotel, The Cheech Marin Center for Chicano Art & Culture, and other culturally significant tourist destinations within Downtown Riverside 
Parking is available behind the restaurant and there are metered parking spaces nearby. 
For more information, visit the Tio's Tacos website.