By Ethan Vo |
The resume is one of the most important aspects in landing your dream job. If your resume stands out from the rest, it can be the deciding factor between you getting a call back for an interview or getting looked over for the next applicant in line. Therefore, you need your resume game to be on point so that you can be sure to cross off "Land Dream Job" on your life bucket list.
This guide will take you through all the steps in resume writing including choosing the appropriate formatting, using a resume summary or objective, or simply modifying your resume to suit the job you are applying for.
Step 1: Choosing the Best Resume Format
The three most common types of resumes you will see in the wild are as follows: chronological, functional, and a combination of the two.
Chronological Resume – This is the most popular resume format out there. This format lists your work experience, education, and qualifications in chronological order from most recent at the top of the list in descending order.
Here is an example of a chronological resume:
Functional Resume – This format is more geared towards showcasing your skills that are transferable, rather than your work experience.
Here is an example of a functional resume: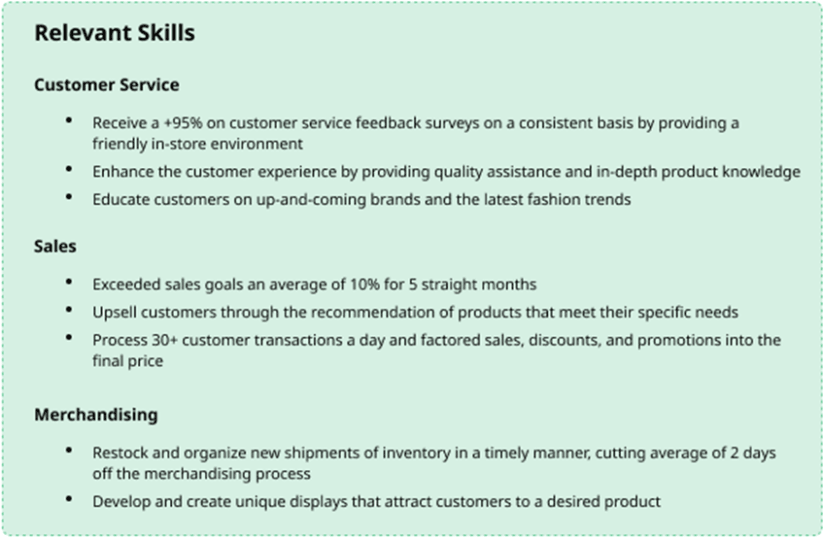 Combination Resume: Like the name suggests, this is a combination of both the chronological and functional resumes. The format allows you to showcase your work history as well any transferable skills you have acquired.
Here is an example of a combination resume: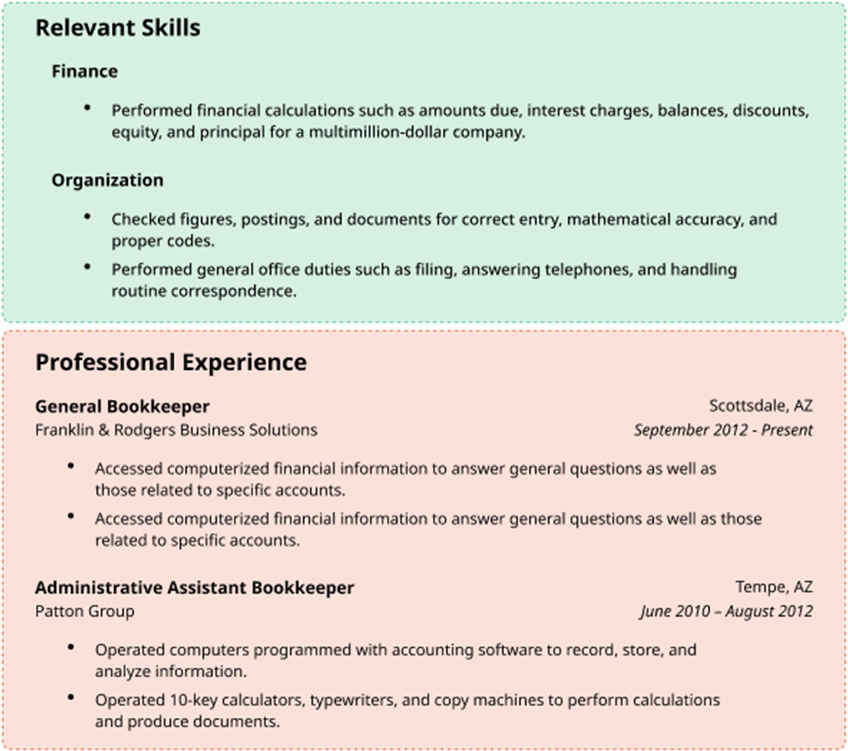 Which Format Should You Choose?
Chronological – Most job-seekers should use this format as it is easy to read and understand. As a result of it being the most popular, most recruiters are familiar with the layout. Also, it showcases your professional progression, and is able to be scanned by ATS (Applicant Tracking System) with ease.
Functional – This is generally not recommended for majority of job-seekers. It is reserved for the ones that have no prior job experience, switching careers, or have a long gap on between jobs. However, there are more disadvantages to this format that might deter you from choosing it. For example, some recruiters, because of its unusual nature, might see your resume as having a lack of experience.
Combination – Again, this form of resume is not very common, as the chronological resume is far more common and accepted. However, if you are someone with senior-level candidate with diverse skills and experience, have a gap in your employment history, or are changing careers, the combination resume is not recommended.
Resume Layout
Now that you have selected the proper format for your resume, let's discuss the proper layout of a resume. When making your resume, you do not want it being too cluttered, too short or long, boring, hard to read, and easy to not give a second thought about.
Here is a checklist to help with figuring out how to layout your resume:
One page in length

Chances are, wherever you are applying to has received a hundred more applications just like yours. The employer does not have time to read through two pages of your life story.

Clear section headings

Pick a heading, for example H2, and stick with it throughout the resume.

Have a good amount of white space

With too much of the page covered, you run the risk of making your resume looking overcrowded with text.

Choose a readable font and size

Please, please, please do not choose fonts such as Comic Sans or any cursive font.

As a general rule, normal text should be in 11-12 pt font, and headings and section titles should be 14-16 pt font.

Make sure to save your resume in PDF format

While word is also a good option, it has a chance to botch the formatting.
Traditional or Creative?
Choosing either a traditional layout or a creative layout comes down to where you are applying. If the industry you are applying to is more traditional (such as banking, finance, legal), then you will want to make a traditional looking resume. However, if you are applying to a tech company or someplace that creativity and innovation is important, then you will want to make a more creative resume.
Here is an example of a traditional looking resume:
Here is an example of a creative looking resume:
Pro Tip: There are hundreds, maybe thousands of templates you can use online to do all the hard work for you. With these templates, you do not have to spend hours formatting and reformatting your resume. Plus with the amount of designs there are, there is certainly one that will fit your need. If you use one of these templates, all you have to do is fill in your information, save the document, and you are done!
Step 2: Contact Information
The first step in adding actual content to your resume is your contact section. This section should not be too hard, but it is an important step to make sure you get right. Because what is the point of making and submitting your resume if the company you are applying to cannot reach you because of a typo in your email to offer you the position?
Here is the contact information that you should have in your resume:
First name and Last name
Phone number
Email address
Current Location
Are you local to the business? Or will the company have to fund your relocation?
These are optional pieces of personal information that you can include:
Job title – If applicable
LinkedIn account URL
Any relevant social media accounts or websites – could be GitHub or personal blogs, for example.
A couple things you should NOT include:
Date of Birth (Unless specifically asked for)
Unprofessional email address
Here is an example of a proper contact section:

Step 3: Resume Headline
When job recruiters are looking through thousands of resumes, they will mainly only read your resume headline. If something in the headline catches their eyes, then they will go into more detail. Now, depending on where you are in your career, you may want to use either a resume summary or objective. Formatting wise, your resume headline will be placed just under or next to the contact section.
Summary or Objective?
A resume summary would be used by most job seekers, and should be around 2 or 3 sentences that is a summary of your career.
Things to include in a resume summary:
Your current/most recent job and years of experience
1-2 top achievements or core responsibilities
Desired goal at the company you are applying to
You can find a bunch of examples, plus some extra advice on resume summaries here.
Now, if you have very little work experience, a resume objective would more suit your resume. It should be the same length of a resume summary, but an objective tells the reader what kind of career you are seeking and where you want to go with your career.
Here is a website that includes many examples of good resume objectives:
Step 4: Working Experience
This is the real meat and potatoes of your resume. The bulk of information on your resume lies in the work experience section.
So it is safe to say that proper formatting and information is needed to properly sell yourself. Regardless of what format you choose, (chronological, functional, etc.) your prior jobs will be listed in chronological order. Meaning the most recent at the top and then going back in time.
Here is what to include when listing each job you've had:
Job title/position

This will go at the top of each listing, in bold, so you can read it at a glance.

Company Name/location/description

Mention the specific location of the office you worked in, and a short description of the company if it is not well known

Dates Employed

You do not have to be super specific about the exact day that you started. Standard practice is MM/YYYY.

Achievements/Responsibilities
Pro Tip: The hiring manager probably already knows what the responsibilities of your job were, so do not make the mistake of not listing your achievements. When listing your achievements, you want to make them quantifiable (add numbers), and show how you grew your prior company.
Here is an example of a Work Experience section: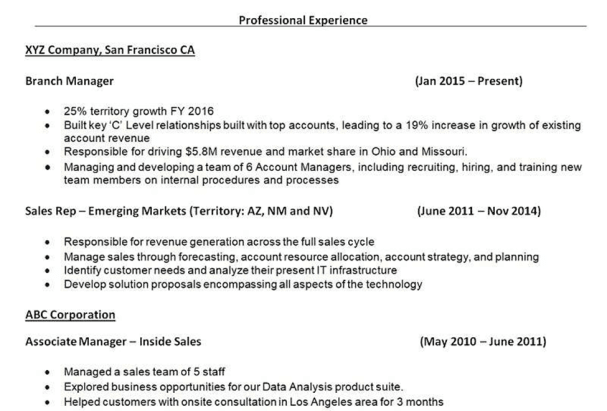 Tailoring the Resume to the Job
This is what makes a great resume stand out from the rest. No hiring manager wants to see your retail job from high school if you are applying to a marketing position at a big company. An easy way to know how to tailor your resume is to look at the job requirements and responsibilities. So, when listing your prior experience and achievements, education, and skills, you can list only the ones that pertain to the job.
For example, if you are applying for a marketing job that have these requirements:
3+ years of online marketing experience *Hint*
Deep understanding of social media marketing experience, with knowledge of Instagram advertising *Hint*
Experience in managing a monthly $50,000+ advertising budget *Hint*
B.A. in Marketing or Business Administration *Hint*
Outstanding interpersonal skills with a strong ability to collaborate
Job is based in Dallas, Texas
You can:
Include how many years of experience you have in your resume summary
Any achievements from previous jobs to show social media marketing experience
Your education to show you have the proper degree they are looking for
How much work experience to include?
Now, let's go over just how much work experience you should be adding to your resume. Remember, a resume should only be a page in length, so including every single job you had in your life will be excessive. On the other hand, if you are someone with very little or even no prior experience, then you might have to list your experience in school clubs or organizations.
Here is what you should include for each level of experience:
No experience – People with no work experience will find the hardest time filling out the Work experience section. So, you can either leave this section empty and make sure your other sections are rock solid, or you can fill it up with experience in student organizations, clubs, etc.
Entry-level – List every job and all work you have until this point. Even though some might not be relevant to the job, it at least shows you have some practical experience.
Mid-level professionals – Mention ONLY the work experience that is related to the position that you are applying for.
Step 5: Education
Next you will list your prior education. If you do not have any prior work experience, then you should list your education first. Your most recent education should be listed at the top, the same as the work experience. If you have a degree from a university, then you should refrain from listing your high school education at all, and you should only mention your GPA if you had an exemplary career, 3.5 GPA and above.

Here is how the formatting should be:
Here are the pieces of information that should be listed:
Program Name
a. Ex: Business Administration, Marketing
College/University Name
a. Ex: University of California, Riverside, Riverside City College
Years Attended
a. Ex: 08/2016 – 06/2020
b. If you are currently still attending, then put when you are expected to graduate
i. Ex: 08/22 – 06/26
The rest are optional:
GPA
Honors
Academic Achievements
Minor
Here is an example of the education section:

Step 6: Skills Section
This is where you want to list any skills that you have that would make the hiring manager think you are perfect for the job.
There are 2 types of skills:
Hard skills – These are skills that could be measured, like knowing how to code in Python or knowing how to use Microsoft Excel.
Soft skills – These are interpersonal skills and personality skills like leadership, time management, critical thinking, etc.
How to list your skills
When listing the skillset you have on your resume, you want a good mix of hard and soft skills. In general, listing your hard skills first is best, followed by your soft skills. For each hard skill you want to list your proficiency level.
Your skill level will fall into these categories:
Beginner – You have entry level practice and classroom education.
Intermediate – You have used the skill in a workplace environment before and have a good understanding.
Advanced – You are the person in the office everyone goes to when in need of help. You have a deep understanding and can coach others.
Expert – You are the person people in anywhere in the profession comes to, not just in the office. You are regarded as one of the best in your field.
Pro Tip:
NEVER lie about your ability on your resume. It will be a very awkward conversation between you and your boss if they ask you to complete a task outside of your skill level.
You also want to tailor the skills you list to the job you are applying to. Look at the job listing qualifications and requirements and list a skill that satisfies as much as you can.
Lastly, include transferable skills. These are your soft skills and some hard skills that would can be applied for any job (For example leadership or Photoshop). Somewhere down the line some of the skills you list will be needed, so it is good to let the recruiter know you have them.
Step 7: Other Important Sections
While not completely necessary, adding some extra sections to help sell yourself could be beneficial. If everything we talked about above is like water, then these extra sections are like fruit juice. Not necessary to live, but something to give you a taste of a different flavor.
Here are some extra sections you can consider adding:
Languages:
If you are bi-lingual, tri-lingual, multi-lingual, then you definitely SHOULD list these on your resume. Even if the job does not need it, it is always something nice to have, and could put you over the rest of candidates that only speak one language.
When listing the language, be sure to also list your proficiency of the language. Those include:
Native
Fluent
Proficient
Intermediate
Basic
Again, never lie about your proficiency level, because as chances are, the hiring manager might be fluent at the language you put down.
Hobbies/Interests:
You may think listing your hobbies is unprofessional, and has no relation to your resume. And at times you are right. However, listing your outside interests can give an insight to the hiring manager what kind of person you are, and if you would fit into their team well.
Volunteering Experience:
If you love giving back, and spend a lot of your free time helping out others and expect nothing in return, then that would make you a person that any company would love to have on board. Volunteer work can show that you are a loyal employee that is wanting a job for more than just the money.
Certifications/Awards:
If you have any awards that make you stand out in your field or any certification of field experts and they relate to the job, then do not be afraid of listing them.
Projects:
Having some off to the side projects that you have worked on shows how passionate you are to the field of work you are applying to. It can be either university class projects or even entrepreneurial side hustles. For example, if you run an online store on Etsy, mention it! If you had a project in a marketing class that required you to create an entire marketing strategy from the ground up, mention it!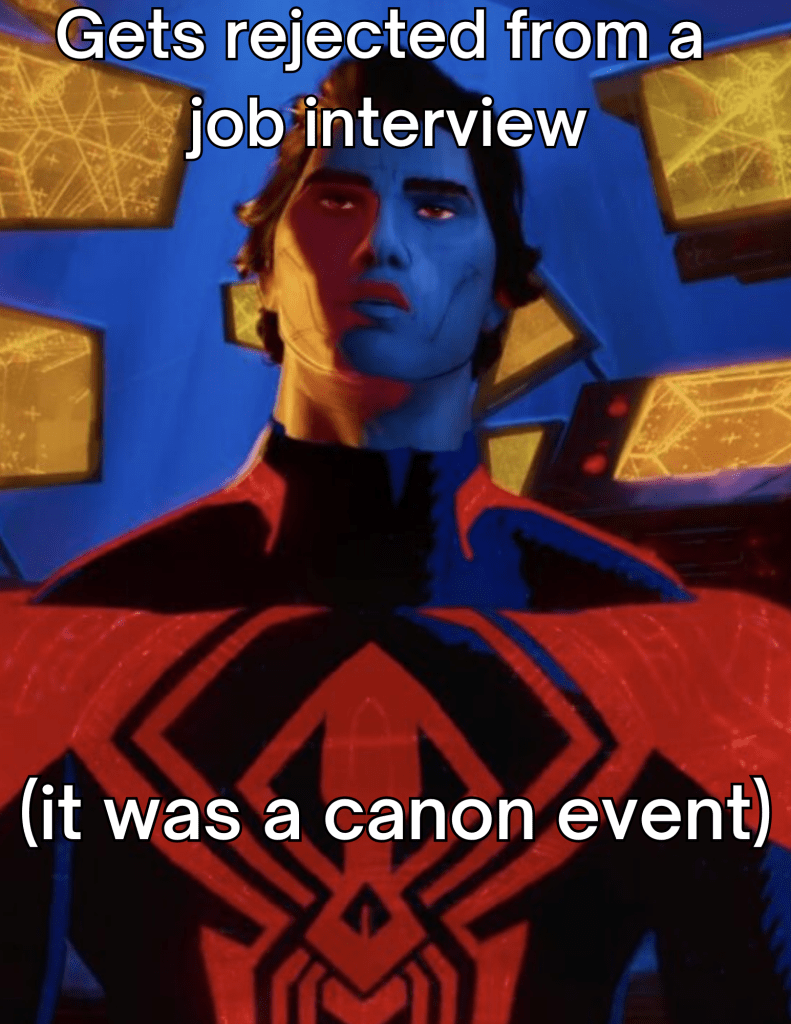 And that's all folks! That is your resume 101. Obviously, there is much more to dive deeper into depending on the field you are applying to, if you are switching careers, or if you have no experience. Each has their own quirks when writing a resume to make sure you have the absolute best chance at being hired. So, take this guide as a skeleton for your resume, and add your own flair and individuality that I am sure will make you stand out from the rest. Happy job hunting!