By Sol Garay |
The United States Sister City program began in 1956 when President Dwight D. Eisenhower proposed a people-to-people, citizen diplomacy initiative. The following year, Riverside began its Sister City relationship with Sendai, Japan, making it one of the oldest Sister City relationships in the nation. Since then, the city of Riverside has led the way in programs that foster friendship, understanding, and encourage trade and tourism. Today, Riverside holds diplomatic relations with 9 different cities from around the world.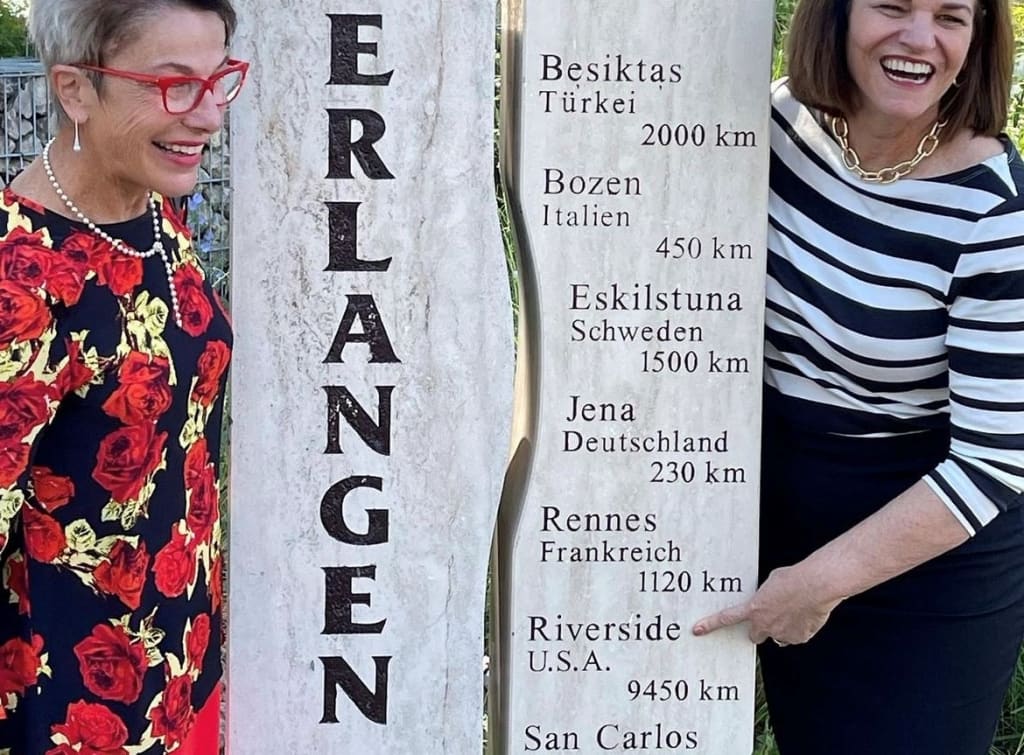 Sister Cities List
Sendai, Japan
Chairperson: Yoko Boucher
Sendai became Riverside's first Sister City on December 10, 1957, making this relationship one of the oldest in the nation. In 2007, Riverside and Sendai celebrated the 50th anniversary of their relationship. Located about 180 miles north of Tokyo on Japan's largest island, Honshu, Sendai is one of Japan's 11 major cities. The city of 1 million is home to Tohoku University, which signed an inter-university agreement with the University of California, Riverside as part of the 50th anniversary celebration. The agreement is designed to facilitate the exchange of scholars and researchers.
Cuautla, Mexico
Chairperson: Irma Flores & Elizabeth Young
A relatively small city of 145,000 in the Mexican state of Morelos, Cuautla became Riverside's second Sister City on July 9, 1968. Known for its natural warm sulphur springs and mild climate, Cuautla is an important tourist destination. Because of its role in Mexico's fight for independence from Spain, Cuautla is also an official historic city. Riverside Fire Department personnel frequently travel to Cuautla to train their counterparts in firefighting techniques. Riverside Fire Department also donates decommissioned vehicles. The relationship is rich in art and cultural exchanges as well.
Ensenada, Mexico
Chairperson: Irma Flores & Elizabeth Young
This port city of 460,000 in Baja, Mexico, is an important fishing and commercial hub, and is home to four universities. Ensenada became Riverside's third Sister City on March 9, 1976. It produces 90 percent of Mexico's wines, and is one of Mexico's most important tourist destinations. Ensenada's relationship with Riverside is characterized by arts and cultural exchanges as well as public safety exchanges. Riverside frequently donates decommissioned fire and police equipment to the police and fire departments of Ensenada.
Jiangmen, People's Republic of China
Chairperson: Dale Kinnear
A city of 3.9 million in the Pearl River region of South China, Jiangmen is an industrial and manufacturing hub, and has been Riverside's Sister City since April 15, 1997. Jiangmen, which translates as "River Gate", is also the citrus capital of China and one of that nation's fastest growing economies. Ties between the people of Jiangmen and Riverside pre-date the Sister City relationship to the late 19th century when immigrants from the Jiangmen region arrived in Riverside to work in the citrus industry.
Gangnam, Republic of Korea
Chairperson: Ron Loveridge
Gangnam, Seoul's wealthiest municipal district, became Riverside's Sister City on May 1, 1998. With a population of more than half a million, Gangnam is an international center for business, industry and finance. Since the inception of the relationship, there have been cultural and information technology exchanges between Riverside and Gangnam. One of the most significant outcomes of this relationship was the establishment in 2001 of the Gangnam-University of California, Riverside International Education Center. The Center provides English language training.
Hyderabad, India
Chairperson: Surekha Acharya
This center for high technology and India's fifth largest city with a population of 7.5 million became Riverside's Sister City on February 16, 2000. That same year, the University of California, Riverside entered into sister university agreements with Hyderabad's Osmania and N.G. Ranga Agricultural universities. As a direct result of the Sister City agreement, Infotech Enterprises, Hyderabad's second largest software company, opened its first United States office in Riverside, staying until 2007. This relationship is characterized by business, educational and governmental exchanges.
Obuasi, Ghana
Chairperson: Jalani Bakari
Riverside's first Sister City in Africa, Obuasi is known for its gold mining operations. Located about a hundred miles north of Ghana's capital, Accra, it is home to one of the top 10 gold producing mines in the world. Obuasi is also rapidly moving into the bio-fuels sector. It has distributed a million seedlings of the oil-rich jatropha plant to farmers in the area. Like Riverside, Obuasi has a citrus heritage, and farms about a thousand acres of the African honey orange.
Erlangen, Germany
Chairperson: Karin Roberts & Adam Bicksler
Almost 1,000 years old, Erlangen in the German state of Bavaria has emerged as Germany's top economic engine and health care technology leader. The city is home to the centuries old Friedrich-Alexander University of Erlangen-Nuremberg which has an MOU with the University of California Riverside to exchange scholars, researchers, and students. The universal MP3 music format was invented in Erlangen's prestigious Fraunhofer Institute. The health care division of Siemens is headquartered in Erlangen and employs about 20 percent of the city's workforce. Riverside and Erlangen have an active and thriving high school exchange program.
Can Tho, Socialist Republic of Vietnam
Chairperson: Vien Doan
Vietnam's 4th largest city with a population of 1.2 million, Can Tho is situated on the banks of the River Hau in the Mekong Delta. Its name means "river of poems." Can Tho is famous for its floating markets and fish farms, and is home to five universities and colleges. It is a major producer of jackfruit, mango, durian and rice, and is often referred to as the rice basket of Vietnam.
Fun Facts:
The Festival of Lights, named "America's Best Public Lights Display" by USA Today, was inspired by a sister city visit to Sendai, Japan, where the Riverside delegation participated in Sendai's Starlight Pageant. Since then, the city's Festival of Lights has generated close to $130,000,000 in economic impact to the community. Another signature event, Riverside's Long Night of Arts and Innovation, was inspired by the Long Night of Science in the sister city of Erlangen, Germany. The Riverside Fire Department has also helped in training Bombederos from the Sister City of Ensenada, Mexico. These are just some of the ways Riverside benefits from international relations programs.
"The world must learn to work together, or finally it will not work at all."

– Dwight D. Eisenhower
A message from the Campus Riverside Team
As we continue to work on the Campus Riverside project, we aim to connect students from our city of Riverside to potential internship opportunities with some of our Sister Cities. Studying or working abroad is a great opportunity to live in a brand-new environment and culture, and what better location than one of our very own sister cities? More on this soon!